Car suddenly won't start? Something wrong with your engine?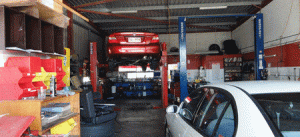 Better have your car checked before it totally breaks down! Graeme Teale Mechanical Repairs is a team of experienced automotive engineers conveniently situated in Brendale. We specialise in all kinds of automotive services and mechanical repairs including logbook servicing, brakes, clutches, and suspension issues, safety certificates and many other concerns with your vehicle may have that would require repairs. We have a combined experience of 40 years, and being a family owned business, we can definitely guarantee the professional service you can get from us.
With the help of our competent and friendly staff, whether you bring your vehicle directly, call or e-mail us beforehand, we will be more than happy to do the service required to get you car up and running. On top of doing repairs, we can also do extra services like identifying parts that require replacing, and give you tips on how to avoid mechanical inconveniences from a professional's point of view.
These services we offer can increase the lifespan of your car, give you peace of mind, and prevent accidents. If you need help with mechanical repairs or in need of automotive experts to repair your vehicle, call us today!